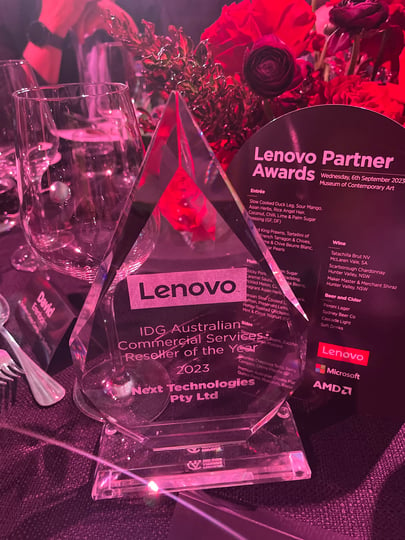 At Next Technologies, we thrive on delivering exceptional service and unparalleled value to our customers in every interaction.
Our longstanding partnership with Lenovo has always been instrumental in achieving this goal, allowing us to provide top-notch enterprise notebooks and desktops that meet the evolving needs of modern businesses. We are thrilled to announce that our dedication to excellence has been recognised by Lenovo, who has honored us as the Australian Commercial Services Partner of the Year.
2021: Australian Gold Partner of the Year
2023: Australian Commercial Services Partner of the Year
This prestigious award follows our previous accolade in 2021, where we were named the Lenovo Australian Gold Partner of the Year. These awards underline our commitment to not only providing high-quality Lenovo products but also ensuring a seamless, transparent procurement process that stands head and shoulders above the rest.
Our focus on Lenovo's range of enterprise notebooks and desktops has allowed us to hone our expertise and tailor our services to the unique needs of each organization we work with. Through transparent pricing, personalized purchasing portals, and ethical business practices, we've redefined what it means to procure technology.
We invite you to experience the Next Technologies difference. If you're already leveraging Lenovo's innovative solutions, let us help you optimise your procurement process, ensuring you get the most value out of your investments. Contact us today for a personalised consultation and discover how we can tailor our services to meet your organisation's unique needs. Together, let's make your technology procurement process as seamless and cost-effective as possible.